Not a subscriber? Click here to sign up!
In this issue:
Install W2/1099 Now
E-file 1099 Extensions with E-File Add-On
'Tis the Season to Renew Your PTIN
Don't Forget to Inspect Your Order
Install W2/1099 Now
If you have purchased the 2019 version of W2/1099 and have not yet downloaded the program, we urge you to do so now, so that we can help you resolve any issues you may have before tax season begins. Make sure the program is installed on the computer you will be using in January, and print a few test forms using the printer you will be using then.
Keep in mind that the filing deadline for Forms W-2 and Forms 1099-MISC reporting non-employee compensation is January 31st, regardless of whether you are paper filing or e-filing.
If you ordered W2/1099 on CD, you should have already received it; the CDs were mailed over a month ago. It may be sitting on your desk, buried under a stack of mail. If you didn't order the program on CD (or can't find it under that stack of mail), it's easy to download it from our web site.
If you have previously purchased and installed the 2019 version of LivePayroll or 941/940, you do not need to install W2/1099. Just make sure you have installed the latest Payroll System update by selecting "Update from the Web" from the "Internet Options" menu, and make sure you are using the current license code by checking it against your MyCFS account.
For tips on using the program, including detailed instructions on how to obtain and update your license code, see the Year-end Forms Filing Tips for W-2s and 1099s video on our Instructional Videos page. If you plan on using the E-File Add-On, there are also Instructional Videos explaining the e-file process for W2s and 1099s. If you will be e-filing information returns for the first time, see "E-filing Information Returns for the First Time?" in last month's e-news.
Attention: If you plan to e-file 1099s and have not yet applied for a TCC (Transmitter Control Code), Form 4419 must now be electronically filed via the FIRE system. (See "E-File Requirement for Form 4419" in last month's e-news.) On December 6, 2019, the FIRE system will be shut down for approximately one month. This means, if you don't already have a TCC and you plan to e-file 1099s this January, you should submit Form 4419 via the FIRE System before December 6th.
E-file 1099 Extensions with E-File Add-On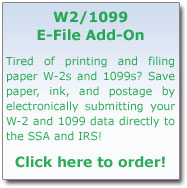 You can use W2/1099 and the W2/1099 E-File Add-On to electronically file Form 8809, Application for Extension of Time to File Information Returns, if you are requesting an automatic extension for Forms 1099. The E-File Add-On produces a Form 8809 file formatted to IRS specifications, which can be uploaded via the FIRE system.
Automatic extensions are not available for Form W-2 or for Form 1099-MISC reporting non-employee compensation (NEC). Extension requests for these forms must be submitted by mail with line 7 of Form 8809 completed and signed by the filer/transmitter or person duly authorized to sign a return, no later than January 31st. W2/1099 will generate a paper Form 8809.
For more information, see the Payroll System help file and Form 8809.
'Tis the Season to Renew Your PTIN
It's PTIN season again, and as usual the IRS is urging tax preparers to renew or apply for PTINs early to avoid a last-minute rush. All current PTINs will expire December 31, 2019.
Anyone who prepares or helps prepare a federal tax return for compensation must have a valid PTIN from the IRS before preparing returns, and they need to include the PTIN as the identifying number on any return filed with the IRS.
Tax preparers with a 2019 PTIN should use the online renewal process, which takes about 15 minutes to complete. Form W-12 (PDF), along with the instructions (PDF), provides a paper option for PTIN applications and renewals. However, it can take four to six weeks to process. Failure to have and use a valid PTIN may result in penalties.
Click here to renew or apply for a PTIN at IRS.gov. For more information, see IRS New Release IR-2019-176.
Don't Forget to Inspect Your Order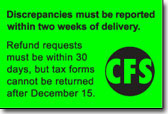 When you receive an order of tax forms or supplies from us, please make sure you inspect it immediately. Verify that we sent the correct items, and that there is nothing you forgot to order. Keep in mind that items may be damaged in transit.
Damages or discrepancies must be reported within 14 days of receiving your order. Our supplies return policy covers you for 30 days, but tax forms cannot be returned for refund after December 15th.
Happy Thanksgiving!
CFS Customer Service
$199

$149

$550

$89

$49

$39

$119

$99

$179
To contact us, please click here. To unsubscribe from this service,
type "unsubscribe from enews" in the Comment field.