Not a subscriber? Click here to sign up!
In this issue:
Fall Renewal Postcard
Our New Post Office Box
W2/1099 Has Been Released
Please Inspect Your Order
Fall Renewal Postcard
By now you should be familiar with the renewal notice postcards that have replaced the large, green envelopes we used to send out three times a year. If you have not yet renewed, you should have recently received the fall version:
Due to space limitations, some renewal items may not be listed; the postcard is meant as a reminder to check your complete renewal notice online at taxtools.com/renew. Once you're there, it's easy to renew: simply add the items you wish to purchase to your cart and proceed to the checkout; sales tax and shipping will be calculated for you. If you prefer not to order online, you can still renew by phone or print out a form at our website to renew by mail or fax.
Whichever way you decide to renew, be sure to do so by October 31, 2019, to receive:
10% off the first-time purchase of additional CFS software or network upgrades, and
10% off forms, envelopes, and tax supplies.
Click here to log in to your MyCFS account and renew online.
Note: this year we will not be mailing fall confirmation notices.
Our New Post Office Box
We have a new post office box address:
CFS TAX SOFTWARE INC
PO BOX 941659
SIMI VALLEY CA 93094-1659
The above address appears on all of our order forms, and should be used when ordering from us by mail.
Our physical address remains the same, and should be used to ship us returned supplies:
CFS TAX SOFTWARE INC
1445 E LOS ANGELES AVE STE 214
SIMI VALLEY CA 93065
Both addresses are listed on the Contact Information page of our website.
W2/1099 Has Been Released

W2/1099 has been released and is available for download. CDs will soon be going out by first class mail to customers who paid for the CD shipping option.
If you have previously installed another 2019 Payroll System program (941/940, LivePayroll, or Corrector), you don't need to install W2/1099. Just be sure you have installed the latest Payroll System update and are using the correct license code. If you purchased W2/1099 after you purchased other CFS programs, the license code you received when you purchased those other programs will not work for W2/1099. You must use the new license code you received when you purchased W2/1099. To update your license code, select "Firm Information..." from the File menu and enter your new license code in the License Code field. If you have a MyCFS account, you can easily look up your license code online.
For tips on using W2/1099, including detailed instructions on how to obtain and update your license code, see the Year-end Forms Filing Tips for W-2s and 1099s video on our Instructional Videos page.
Please Inspect Your Order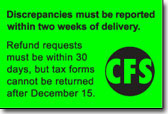 When you receive an order of tax forms or supplies from us, please make sure that you inspect it immediately. Verify that we sent the correct items, and that there is nothing you forgot to order. Keep in mind that items may be damaged in transit.
Damages or discrepancies must be reported within 14 days of receiving your order. Our supplies return policy covers you for 30 days, but tax forms cannot be returned for refund after December 15th. Refunds do not include shipping charges.
CFS Customer Service
$199

$550

$39

$99

$179

$89
To contact us, please click here. To unsubscribe from this service,
type "unsubscribe from enews" in the Comment field.