Not a subscriber? Click here to sign up!
In this issue:
Summer Renewal Incentives Expire Soon
Have You Renewed W2/1099?
Form Shipments
CFS Tip: Hide/Display State Forms
Summer Renewal Incentives Expire Soon
Time is almost up for CFS summer renewal incentives! Renew by August 31st to receive:
$5 off every program renewed early;
20% off the first-time purchase of additional software or network upgrades; and
15% off forms, envelopes, folders, and checks.
Click here to log in to your MyCFS account and renew now!
Have You Renewed W2/1099?

W2/1099 will be released soon. If you haven't already done so, be sure to renew it by August 31st to take advantage of our summer early renewal incentives (see above article). And if you plan on e-filing your W-2s and 1099s, don't forget the E-File Add-On.
If you have previously installed another 2019 Payroll System program (941/940, LivePayroll, or Corrector), you won't need to install the W2/1099 program. Just update Payroll System when W2/1099 is released and make sure you are using the correct license code.
For tips on using W2/1099, including instructions on how to update your license code, see the Year-end Forms Filing Tips for W-2s and 1099s video on our Instructional Videos page.
Form Shipments
We recently began shipping 2019 forms. If you ordered forms, when your order is shipped you will receive an e-mail with a UPS tracking number. Please confirm that we have the correct UPS address, and be ready to sign for the order when it is delivered.
Please check your order as soon as it arrives. Whenever you receive a shipment of tax forms or supplies, we urge you to open it immediately and verify that we sent you the correct items and that there is nothing you forgot to order. Keep in mind that items are sometimes damaged in transit.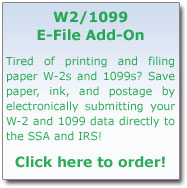 Damages, Discrepancies, Returns. Damages or discrepancies must be reported within 14 days of receiving your order. Forms and envelopes may be returned sealed and unused within 30 days, but no later than December 15th. Refunds do not include shipping charges.
Order by August 31st. If you have not yet ordered your red forms, blank form stock, envelopes, or other supplies, now is the time to do so. You will receive a 15% discount on all supplies ordered by August 31st. The best way to order your forms and envelopes or tax return supplies is at our online store.
Form starter kits will be mailed separately to new users of W2/1099 and customers who renewed the program by May 31st.
CFS Tip: Hide/Display State Forms
In CFS programs containing forms for multiple states, you can hide the states you'd rather not see. Click "Configuration" on the toolbar. Under "Form Display Options," click "Display State Forms." Clear the checkboxes for the states you don't want to see. Click "OK," then "Save Settings," and "Close."
If you need to see forms for states you previously unchecked, simply go back into "Configuration," re-check them, and save the new settings.
CFS Customer Service
$199

$550

$39

$99

$179

$89
To contact us, please click here. To unsubscribe from this service,
type "unsubscribe from enews" in the Comment field.