Not a subscriber? Click here to sign up!
In this issue:
Summer Renewal Notice
IRS Urges "Paycheck Checkup"
Form Shipments
Summer Renewal Notice
If you have not yet renewed your CFS software or supplies for 2019, you should soon be receiving a summer renewal mailer, including a renewal form, newsletter, and catalog. If you renew by August 31st, you will receive:
$5 off every program renewed early;
20% off the first-time purchase of additional software or network upgrades; and
15% off forms, envelopes, folders, and checks.
See your summer renewal notice for details, or click here to renew online.
NOTE: If you have already renewed, you will not receive a summer renewal notice. If you renew online, you do not need to return a paper renewal form.
IRS Urges "Paycheck Checkup"
The IRS is encouraging taxpayers who owed additional tax last year to check—and if necessary adjust—their paycheck withholding as soon as possible.
The Tax Cuts and Jobs Act, the tax reform legislation passed in December, made major changes to the tax law, including increasing the standard deduction, removing personal exemptions, increasing the Child Tax Credit, limiting or discontinuing certain deductions and changing tax rates and brackets.
These far-reaching changes could have a big impact on the tax refund or balance due on the tax return people file next year. The IRS encourages every employee to do a "paycheck checkup" soon to ensure they have the correct amount of tax taken out of their pay.
(See IR-2018-145.)
We recommend using our W4 Calculator to perform paycheck checkups for all of your clients. W4 Calculator is the perfect tool for adjusting withholding mid-year. You can use it to ensure your clients come as close as possible to breaking even at the end of the year, or you can use it to calculate for a desired refund.
W4 Calculator calculates W-4 allowances and generates Forms W-4, W-4P, W-4V, 1040-ES, and 540-ES. It calculates state withholding allowances for Arizona, California, Illinois, New Jersey, New York, North Carolina, Ohio, Oregon, South Carolina, and Virginia, and generates state withholding allowance forms for each of those states. It includes our Paycheck Withholding Calculator, Invoice Generator, and Label Maker, and imports clients and preparers from other CFS programs and major tax preparation programs.
Click here to purchase both 2018 and 2019 W4 Calculator for the price of one year!
Form Shipments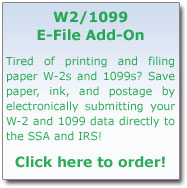 We hope to begin shipping 2018 forms soon. (Due to the late release of some forms by the IRS, some shipments may be delayed.) If you have ordered forms, when your order is shipped you will receive an e-mail with a UPS tracking number. Please confirm that we have the correct UPS address, and be ready to sign for the order when it is delivered.
Please check your order as soon as it arrives. Whenever you receive a shipment of tax forms or supplies, we urge you to open it immediately and verify that we sent you the correct items and that there is nothing you forgot to order. Keep in mind that items are sometimes damaged in transit.
Damages, Discrepancies, Returns. Damages or discrepancies must be reported within 14 days of receiving your order. Forms and envelopes may be returned sealed and unused within 30 days, but no later than December 15th. Refunds do not include shipping charges.
Order by August 31st. If you have not yet ordered your red forms, blank form stock, envelopes, or other supplies, now is the time to do so. You will receive a 15% discount on all supplies ordered by August 31st. The best way to order your forms and envelopes or tax return supplies is at our online store.
Form starter kits will be mailed to new users of W2/1099 and customers who renewed the program by May 31st.
CFS Customer Service
$199

$550

$39

$99

$179

$89
To contact us, please click here. To unsubscribe from this service,
type "unsubscribe from enews" in the Comment field.