Not a subscriber? Click here to sign up!
In this issue:
Fall Renewal/Confirmation Notices
IRS e-Services Is Getting a Makeover
Please Inspect Your Order
Don't Lose Your W2/1099 CD and/or Starter Kit
Fall Renewal/Confirmation Notices
Summer is officially over, which means it's time for Fall Renewal and Confirmation Notices. If you have not renewed your CFS products for 2018, you may have already received a Fall Renewal Notice; if you have renewed, you will soon receive a Confirmation Notice listing the CFS products you have previously ordered this year.
If you haven't renewed, please consider the following benefits of renewing now:
Avoid the stress of having to place your order when your office and ours are at their busiest.
Resolve potential software or hardware problems before tax season begins by installing and testing your software early.
Plus, if you renew by October 31st, you will receive:
10% off the first-time purchase of additional CFS software or network upgrades, and
10% off forms, envelopes, and tax supplies.
Click here to log in to your MyCFS account and renew online.
IRS e-Services Is Getting a Makeover
The IRS is updating its e-Services site to improve usability and security. The update will include a new platform and landing page, a new user agreement, and a Secure Access authentication process.
The update will affect all e-Services users, and some systems will be unavailable during the transition. For further details, see Important Information about Your e-Services Account on the IRS website.
Please Inspect Your Order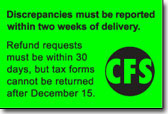 When you receive an order of tax forms or supplies from us, please make sure that you inspect it immediately. Verify that we sent the correct items, and that there is nothing you forgot to order. Keep in mind that items may be damaged in transit.
Damages or discrepancies must be reported within 14 days of receiving your order. Our supplies return policy covers you for 30 days, but tax forms cannot be returned for refund after December 15th. Refunds do not include shipping charges.
Don't Lose Your W2/1099 CD and/or Starter Kit
As we mentioned in the August e-news, both W2/1099 CDs and Form Starter Kits were mailed last month: CDs by first class mail to customers who paid for the CD shipping option, Form Starter Kits by standard mail to first-time purchasers of W2/1099 and customers who renewed the program by May 31st. In other words, if you were to receive a W2/1099 CD and/or Form Starter Kit, you should have them by now.
Because they were mailed earlier than usual, we are concerned that some customers may misplace their W2/1099 CDs and/or Starter Kits between now and January. For this reason, we urge you to install the W2/1099 program now, and, if you received a Starter Kit, to put it in a place where you will be sure to find it in January.
Note: You can always identify the W2/1099 CD by its kelly green color. The number of this year's CD is 2017.220.
CFS Customer Service
$199

$550

$39

$99

$179

$89
To contact us, please click here. To unsubscribe from this service,
type "unsubscribe from enews" in the Comment field.