Not a subscriber? Click here to sign up!
In this issue:
Summer Renewal Notice
Protect Your Clients and Yourself from Spear Phishing
Form Shipments
Summer Renewal Notice
If you have not yet renewed your CFS software or supplies for 2018, you should soon be receiving a summer renewal mailer, including a renewal form, newsletter, and catalog. If you renew by August 31st, you will receive:
$5 off every program renewed early;
20% off the first-time purchase of additional software or network upgrades; and
15% off forms, envelopes, folders, and checks.
See your summer renewal notice for details, or click here to renew online.
NOTE: If you have already renewed, you will not receive a summer renewal notice. If you renew online, you do not need to return a paper renewal form.
Protect Your Clients and Yourself from Spear Phishing

This month the Security Summit consisting of the IRS, state tax agencies, and the tax industry began a new series in its Protect Your Clients; Protect Yourself campaign titled "Don't Take the Bait." The first article in the series concerns "spear phishing:"
Phishing emails target a broad group of users in hopes of catching a few victims. Spear phishing emails pose as familiar entities, and the cybercriminals have done extensive research and homework in order to target a specific audience. Tax professionals and taxpayers are among the groups that regularly receive phishing emails.
The security software firm Trend Micro reports that 91 percent of all cyberattacks and resulting data breaches begin with a spear phishing email. The email, disguised as being from a trusted source, may seek to have victims voluntarily disclose sensitive information such as passwords. Or, it may encourage people to open a link or attachment that actually downloads malware onto the computer.
The article suggests the following series of defensive steps to protect your clients and your business from spear phishing:
Educate all employees about phishing in general and spear phishing in particular.
Use strong, unique passwords. Better yet, use a phrase instead of a word. Use different passwords for each account. Use a mix of letters, numbers and special characters.
Never take an email from a familiar source at face value; example: an email from ďIRS e-Services.Ē If it asks you to open a link or attachment, or includes a threat to close your account, think twice. Visit the e-Services website for confirmation.
If an email contains a link, hover your cursor over the link to see the web address (URL) destination. If itís not a URL you recognize or if itís an abbreviated URL, donít open it.
Consider a verbal confirmation by phone if you receive an email from a new client sending you tax information or a client requesting last-minute changes to their refund destination.
Use security software to help defend against malware, viruses and known phishing sites and update the software automatically.
Use the security options that come with your tax preparation software.
Send suspicious tax-related phishing emails to phishing@irs.gov.
For more information, including an illustrated example of a spear phishing email targeting tax professionals, see IR-2017-119 on the IRS website.
Form Shipments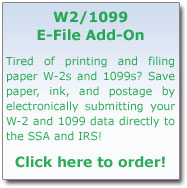 It won't be long before we begin shipping 2017 forms. If you have already ordered your forms, you will receive an e-mail with a UPS tracking number when your order is shipped. Please confirm that we have the correct UPS address, and be ready to sign for the order when it is delivered.
Please check your order as soon as it arrives. Whenever you receive a shipment of tax forms or supplies, we urge you to open it immediately and verify that we sent you the correct items and that there is nothing you forgot to order. Keep in mind that items are sometimes damaged in transit.
Damages, Discrepancies, Returns. Damages or discrepancies must be reported within 14 days of receiving your order. Forms and envelopes may be returned sealed and unused within 30 days, but no later than December 15th. Refunds do not include shipping charges.
Order by August 31st. If you have not yet ordered your red forms, blank form stock, envelopes, or other supplies, now is the time to do so. You will receive a 15% discount on all supplies ordered by August 31st. The best way to order your forms and envelopes or tax return supplies is at our online store.
Form starter kits will be mailed in the fall to new users of W2/1099 and customers who renewed the program by May 31st.
CFS Customer Service
$199

$550

$39

$99

$179

$89
To contact us, please click here. To unsubscribe from this service,
type "unsubscribe from enews" in the Comment field.