Not a subscriber? Click here to sign up!
In this issue:
Don't Miss Your Last Chance to Save!
Ready for the Early Filing Deadline?
W2/1099 and Form Starter Kits
Envelope B and Form 1099
Don't Miss Your Last Chance to Save!
October 31st is the last chance to save...
10% off the first-time purchase of additional CFS software or network upgrades, and
10% off forms, envelopes, and tax supplies.
Customers who renew for next year by the end of this month are eligible for these discounts.
Click here to log in to your MyCFS account and renew (if you haven't done so already) or to take advantage of the aforementioned discounts by ordering something new.
Ready for the Early Filing Deadline?

As we have been reminding our customers for the past few months, January 31st is the new deadline for filing W-2s with the SSA—whether you use paper forms or e-file. January 31st is also the deadline for filing Form 1099-MISC with the IRS by paper or e-file, if you are reporting nonemployee compensation payments in box 7.
Make sure you have purchased and installed the W2/1099 program (and the E-file Add-on, if you will be e-filing) and ordered any necessary forms and envelopes well before the deadline. If you will be e-filing W2s and/or 1099s for the first time, make sure you also have the following:
To e-file Forms W-2 via Social Security's Business Services Online: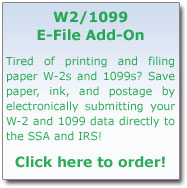 To e-file Forms 1099 via the IRS FIRE System:
an EIN (file Form SS-4) and
a TCC number (file Form 4419)
You must apply for a TCC number at least 45 days before you plan to file. Passwords for both Social Security and IRS web sites must be changed at least every 90 days to keep them from expiring. The SSA expects increased calls in January; users are advised to change their passwords early to avoid any problems.
W2/1099 and Form Starter Kits
W2/1099 was released last month, and CDs were sent by first-class mail to customers with CD service. If you are not sure whether you ordered your software as a download or on CD, you can always check your order by logging in to your MyCFS account. Remember—even if you order your software on CD, you don't have to wait for it. You can always download it from our software downloads page.
Note: If you already have another 2016 Payroll System program installed (941/940, LivePayroll, or Corrector), you don't need to install W2/1099. Just make sure you have installed the latest Payroll System update and are using the correct license code. You can look up your current license code by logging in to your MyCFS account.
Form Starter Kits were mailed last month by standard mail (3rd class) to customers who either ordered W2/1099 for the first time or renewed by May 31st.
Envelope B and Form 1099
Our double-window Envelope B is designed for mailing the 3-up 1099 recipient copies generated by our W2/1099 program. The envelope is not wide enough to accommodate a standard 8½ by 11 inch sheet of paper, but it is just the right width for our 1099 3-up perforated stock, once the vertical tear strip has been removed.
Of course, you can print your 1099's on standard paper and cut them down to size. Or you can use standard envelopes and afix labels. But why not save yourself some work? Together, our 1099 3-up perforated stock and Envelope B are a great buy—especially when you order before October 31st and take 10% off the regular price. Click here to order.
CFS Customer Service
To contact us, please click here. To unsubscribe from this service,
type "unsubscribe from enews" in the Comment field.