Not a subscriber? Click here to sign up!
In this issue:
Summer Renewal Incentives Expire Soon
Have You Renewed W2/1099?
New Phishing Scam Targets Tax Professionals
Summer Renewal Incentives Expire Soon
Time is almost up for CFS summer renewal incentives! Renew by August 31st to receive:
$5 off every program renewed early;
20% off the first-time purchase of additional software or network upgrades; and
15% off forms, envelopes, folders, and checks.
Click here to log in and renew now!
Have You Renewed W2/1099?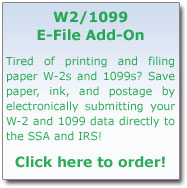 W2/1099 will be available for download soon. If you haven't already done so, be sure to renew by August 31st to take advantage of our summer early renewal incentives (see above article). And if you plan to e-file your W-2s and 1099s, don't forget the E-File Add-On.
Reminder: January 31st is the new deadline for filing W-2s with the SSA—whether you use paper forms or e-file. January 31st is also the deadline for filing Form 1099-MISC with the IRS by paper or e-file, if you are reporting nonemployee compensation payments in box 7.
All the more reason to renew W2/1099 and the E-File Add-On early!
New Phishing Scam Targets Tax Professionals
In a recent news release, the IRS warned that a new phishing scam is targeting tax professionals with emails purporting to come from tax software companies. The emails instruct recipients to click a link to download an important software update file. The file actually installs a program that records keystrokes, allowing criminals to capture everything typed on the keyboard, including logins, passwords, account numbers, and Social Security numbers.
"Although the IRS knows of only a handful of cases to date, tax professionals are encouraged to be on the lookout for these scams and never to click on unexpected links in emails."
We know of no attempts to target CFS customers with such a scam, and we don't expect there will be any. Cybercriminals generally don't bother counterfeiting smaller companies such as ours. However, we urge our customers to be cautious with all emails.
For details, see IRS News Release IR-2016-103 — and for more information on how to protect yourself and your clients from phishing and other scams, see "Protect Your Clients; Protect Yourself" and Publication 4557, as well as our March 2016 e-news article, "How to Avoid Phishing Scams."
CFS Customer Service
$199

$550

$39

$99

$179

$89
To contact us, please click here. To unsubscribe from this service,
type "unsubscribe from enews" in the Comment field.