Not a subscriber? Click here to sign up!
In this issue:
Summer Renewal Notice
2016 Form Changes
Form Shipments
Early Filing Deadline for W-2 and 1099-MISC
Summer Renewal Notice
If you have not yet renewed your CFS software or supplies for 2017, you should soon be receiving a summer renewal mailer, including a renewal form, newsletter, and catalog. If you renew by August 31st, you will receive:
$5 off every program renewed early;
20% off the first-time purchase of additional software or network upgrades; and
15% off forms, envelopes, folders, and checks.
See your summer renewal notice for details, or click here to renew online.
NOTE: If you have already renewed, you will not receive a summer renewal notice. If you renew online, you do not need to return a paper renewal form.
2016 Form Changes
Form 1098. In the past, Form 1098 Copy A was a 3-up form, sold in packs of 34 sheets. However, because the IRS increased the size of the form this year, Form 1098 is now 2-up. We generally package forms with enough sheets in a pack for 100 employees or recipients. This means a pack of 2016 1098 Copy A forms now contains 50 sheets rather than 34 and, because we price forms by the sheet, is priced slightly higher than last year.
Form 1099-SA. The 2016 Instructions for Forms 1099-SA and 5498-SA state:
Online fillable form. Due to the very low volume of paper Forms 1099-SA and 5498-SA received and processed by the IRS each year, these forms have been converted to an online fillable format. You may fill out the forms, found online at www.irs.gov/form1099sa and www.irs.gov/form5498sa, and send Copy B to the recipient. For filing with the IRS, follow your usual procedures for filing electronically if you are filing 250 or more forms. If you are filing these forms on paper due to a low volume of recipients, for these forms only, you may send in the black and white Copy A with Forms 1096 that you print from the IRS website.
In light of the above, we will no longer produce a red Form 1099-SA. However, our W2/1099 program will generate a black Form 1099-SA Copy A that can be filed with the IRS, and the W2/1099 E-file add-on adds electronic filing capability for Form 1099-SA and most other information returns.
Form Shipments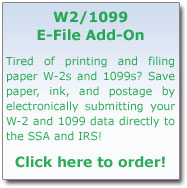 It won't be long before we begin shipping 2016 forms. If you have already ordered your forms, you will receive an e-mail with a UPS tracking number when your order is shipped. Please confirm that we have the correct UPS address, and be ready to sign for the order when it is delivered.
Please check your order as soon as it arrives. Whenever you receive a shipment of tax forms or supplies, we urge you to open it immediately and verify that we sent you the correct items and that there is nothing you forgot to order. Keep in mind that items are sometimes damaged in transit.
Damages, Discrepancies, Returns. Damages or discrepancies must be reported within 14 days of receiving your order. Forms and envelopes may be returned sealed and unused within 30 days, but no later than December 15th. Refunds do not include shipping charges.
Order by August 31st. If you have not yet ordered your red forms, blank form stock, envelopes, or other supplies, now is the time to do so. You will receive a 15% discount on all supplies ordered by August 31st. The best way to order your forms and envelopes or tax return supplies is at our online store.
Form starter kits will be mailed in the fall to new users of W2/1099 Payroll System and customers who renewed the program by May 31st.
Early Filing Deadline for W-2 and 1099-MISC
Don't forget that January 31st is the new deadline for filing W-2s with the SSA—whether you use paper forms or e-file. January 31st is also the deadline for filing Form 1099-MISC with the IRS by paper or e-file, if you are reporting nonemployee compensation payments in box 7.
All the more reason to order forms early!
CFS Customer Service
$199

$550

$39

$99

$179

$89
To contact us, please click here. To unsubscribe from this service,
type "unsubscribe from enews" in the Comment field.