Not a subscriber? Click here to sign up!
In this issue:
2016 Software Releases
Financial Planning Tools and Schedule D Tools
Prior Year Tax Forms
Information Return Deadlines
Please Take Our Survey
2016 Software Releases
Most 2016 CFS programs have now been released. (For two exceptions, see "Financial Planning Tools and Schedule D Tools," below.) If you paid for CD shipping, by now you will have received a CD containing initial releases of your 2016 programs.
But why buy your software on CD? Most of our customers have discovered the benefits of downloading their software from our website: eliminating the cost of shipping (and in many cases sales tax), and getting their software immediately, rather than having to wait for a CD.
To download CFS software:
Go to www.taxtools.com and select Download Software from the Downloads menu.
Enter your customer ID and zip code, then click the "Go to download page" button.
Download and install your software, following the instructions at the top of the page. Note the yellow table beneath the instructions, which contains your license code(s). You can copy the license code from here and paste it into the program when you install it.
We even maintain links to past releases, should you ever need to download and install an old program.
Financial Planning Tools and Schedule D Tools
Financial Planning Tools and Schedule D Tools sometimes cause confusion because, unlike most of our other programs, they are not released at the beginning of the calendar year: Financial Planning Tools is generally released in March; Schedule D Tools is generally released in late April or early May. Also, both of these programs are licensed for one year and will expire unless they are renewed. It is important to keep these facts in mind when ordering, so that you order the version of the program that you need.
Remember...
Prior Year Tax Forms
CFS has a limited stock of prior year forms as far back as 1994. To order forms from a prior tax year, download a forms order sheet from our website, fill it out, and fax it to us at 805-522-0187. Make sure you indicate on the order sheet what year forms you are ordering. If you are ordering forms for more than one year, fill out a separate order sheet for each year.
Information Return Deadlines
As you probably know, the deadline for filing information returns by mail to Social Security and the IRS is generally the end of February. However, did you know that you have until March 31st to e-file your W-2s and 1099s with the federal government? (States may have earlier deadlines.)
You can save timeóas well as paper, ink, and postageóby e-filing your W-2s and 1099s with W-2/1099 Payroll System plus the E-file Add-on. The E-file Add-on allows you to quickly and easily submit data from W2/1099 Payroll System to Social Security, the IRS, and many participating states, via the Internet.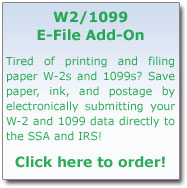 Note: To e-file information returns, you must have an Employer Identification Number (EIN). If you don't have an EIN, you can obtain one by filing Form SS-4. Also:
Both Form SS-4 (Application for Employer Identification Number) and Form 4419 (Application for Filing Information Returns Electronically) are included in Payroll System, as are links to the Social Security and IRS websites. For more information on e-filing information returns, see the instructional videos, How to eFile 1099s and How to eFile W2s, posted on our Instructional Videos page.
Please Take Our Survey

We take pride in our customer service and strive to handle customer questions and concerns courteously and efficiently. If you have recently called CFS customer service, you can help us continue to do our best by participating in a brief online survey. The seven question survey will take as little as a minute of your time and may help us improve the way we handle your next call. To take the survey: select Customer Survey from the About CFS menu on our website, or click here. We especially appreciate your comments and suggestions.
CFS Customer Service
To contact us, please click here. To unsubscribe from this service,
type "unsubscribe from enews" in the Comment field.