Not a subscriber? Click here to sign up!
In this issue:
2016 Software Releases
Initial Release or Update?
There's Still Time to Order Forms
Have You Updated Your License Code for W2/1099?
"Why Can't I Hold for Technical Support?"
Tax Season Humor
2016 Software Releases
The following 2016 CFS programs have been released:
CA 571 Preparer
Payroll System (941/940, LivePayroll, Payroll Corrector)
Quick Reference Guide
Small Business Tools
Tax Corresponder
TaxTools
W4 Calculator
If you paid for CD shipping, you may have already received a CD containing the above programs. If not, it's easy to download the programs from our web site:
At our web site, click on Download Software.
Enter your Customer ID and ZIP Code, then click the Go to download page button.
Download and install your software, following the instructions at the top of the page. Note the yellow box beneath the instructions, which contains your license code(s). You can copy the license code from here and paste it into the program when you install it.
Initial Release or Update?
This time of year, we send out lots of e-mails notifying customers of both initial releases and updates. Initial releases require a download and install of the full program file, whereas updates only require a smaller update file. Update files cannot be installed unless the program has previously been installed.
If you receive a notification e-mail from us, be sure to note whether it is an initial release notice ("DOWNLOAD AVAILABLE") or an update notice ("PROGRAM UPDATE"). If it is an update notice, make sure you have installed the program before installing the update. All update notice e-mails include instructions on performing a full program install and a link to download the full program file.
There's Still Time to Order Forms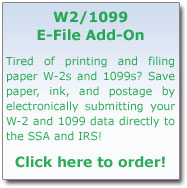 Because this is a leap year, you have until Monday, February 29th, to file your information return Copy A's. If you haven't ordered forms yet or need to order more, the quickest way is at our online store. Or, if you prefer, you can download an order form in PDF format from our web site, fill it out, and either fax it to us at (805) 522-0187, or scan and e-mail it to us at customerservice@taxtools.com.
For additional information on filing W2s and 1099s, see our instructional video, Year-end Forms Filing Tips for W-2s and 1099s. We have also posted videos to help you e-file W-2s and 1099s, import data from QuickBooks, and use many other features of CFS programs. Click here for a complete list of instructional videos.
Have You Updated Your License Code for W2/1099?
This time of year, we receive many calls from frustrated W2/1099 users who cannot access the program, simply because they have not updated their license code. Remember—your license code is based on your firm name, address, and the programs you have purchased. If, like many of our customers, you purchased W2/1099 at the end of the year, months after you purchased your other CFS programs, the license code you received when you purchased those other programs will not work for W2/1099. You must use the new license code you received when you purchased W2/1099.
You can look up your license code online using your MyCFS account. It is also displayed beneath the instructions when you download software from our Download CFS Software page. To change your license code in the program:
Open CFS Payroll System.
Click on the File drop-down menu at the upper left corner of the screen.
Click on Firm Information...
Enter your new license code in the License Code field.
Click OK.
"Why Can't I Hold for Technical Support?"
By far, we receive the greatest number of calls for technical support during the month of January. If you call for technical assistance at this time, it is virtually impossible to connect you directly to a technician. Instead, we ask for a phone number at which a technician can call you back. Most customers do not have a problem with this, but some ask—or even demand—that they be placed on hold instead.
Our goal is to keep no customer on hold for longer than three minutes. We don't want you to be stuck on the phone when your time could be better spent doing something else. Also, each customer that is on hold ties up a line that another customer could be using to get through to us.
96% of all technical support issues are resolved the same day. Given the number of phone lines, customer service representatives, and support technicians we have available, we feel that our system is the most efficient way of handling calls.
Tax Season Humor
"The IRS spends God knows how much of your tax money on these toll-free information hot lines staffed by IRS employees, whose idea of a dynamite tax tip is that you should print neatly. If you ask them a real tax question, such as how you can cheat, they're useless." — Dave Barry
Happy New Year and Tax Season!
CFS Customer Service
To contact us, please click here. To unsubscribe from this service,
type "unsubscribe from enews" in the Comment field.